Pregnancy Help Center Dinner & Simulcast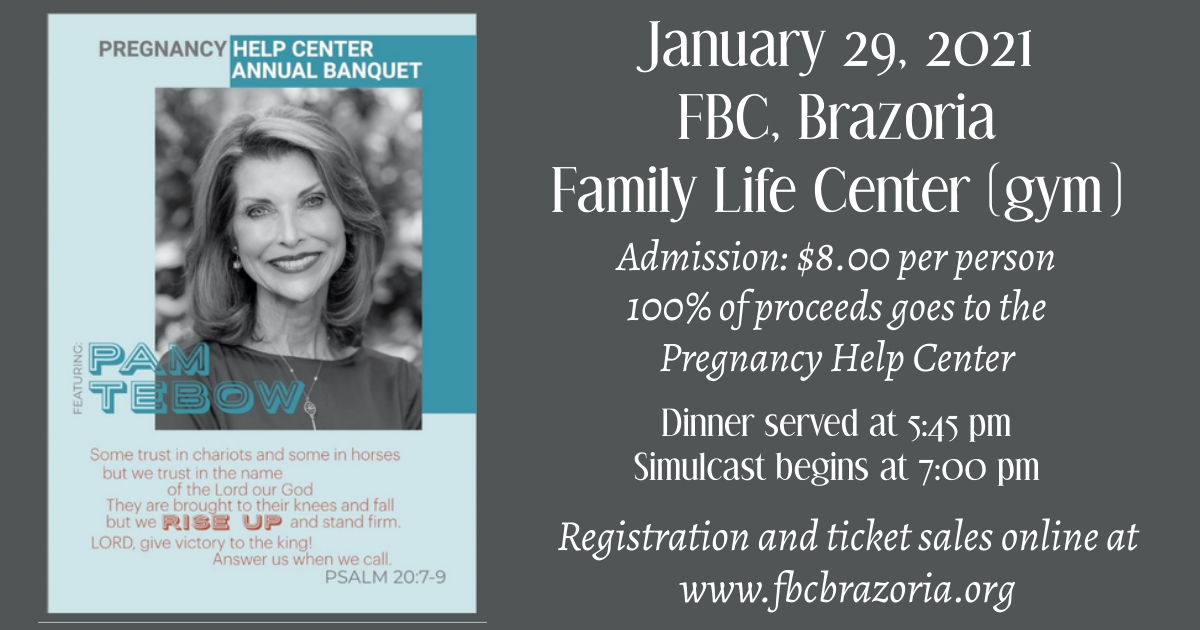 FBC, Brazoria is hosting a fundraising dinner and simulcast for the Pregnancy Help Center. Admission to the event is $8.00 per person and 100% of the proceeds will go to the Pregnancy Help Center. Doors will open at 5:15 pm, Dinner will be served at 5:45 pm and the Simulcast will begin at 7:00 pm. This event is sponsored by the Men's & Ladies' Ministries of FBC, Brazoria. Please read this message about the simulcast from Jackie Fuller, PHC Director.
We are so excited about this year's banquet because we get to hear from Pam Tebow. I have visited with Pam in length and she is very excited about sharing her story of life with us. So, I hope you plan on marking this date on your calendar. Now of course this banquet is different because different is what we have become accustomed to. I have heard "think outside the box" so much and well you learn how to do just that. We want everyone to hear what is happening at the PHC, how God has used this center during the pandemic, and what our goals are for 2021. We also want you to hear Pam's story of choosing life for her son, Tim against her doctor's advice. Because of this decision God has been using her family in amazing ways. This is an inspiring story you don't want to miss! - Jackie Fuller
Please click the button below to register and purchase a ticket to this event.