Ladies' Ministry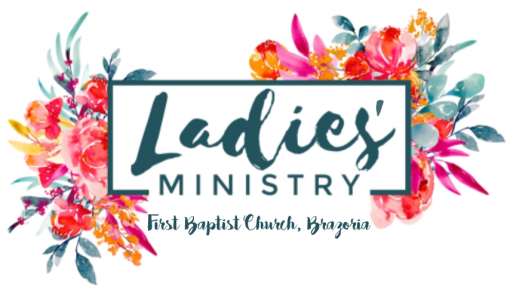 We seek to glorify God through prayerfully planned events and activities for women in our church and community that are biblically focused, address the spiritual needs of women, and promote fellowship, thereby encouraging and strengthening each woman's relationship with Jesus Christ.
FBC, Brazoria Ladies' Ministry, in conjunction with Lifeway Women, will host the Going Beyond Simulcast with Priscilla Shirer, an event that brings women together for a day of powerful teaching, worship with Anthony Evans, and prayer.
Event Date & Time: September 25th, 8:15am - 4:00pm
Event Place: FBC, Brazoria Youth Auditorium & Gym
Event Cost: FREE! An anonymous donor has offered to cover this event!
Registration due by September 20, 2021
ABOUT PRISCILLA SHIRER
Priscilla Shirer is a wife and mom first but put a Bible in her hand and a message in her heart, and you'll see why thousands meet God in powerful, personal ways at her live events. With a master's degree in biblical studies from Dallas Theological Seminary, Priscilla brings the depths of Scripture to life. She is the author of best-selling Bible studies, including Elijah, Discerning the Voice of God, The Armor of God, Gideon, and Jonah, as well as the author of many books, including Fervent and the New York Times best-seller The Resolution for Women. She and her husband, Jerry, lead Going Beyond Ministries. They count it as their greatest privilege to serve every denomination and culture of the church.
ABOUT ANTHONY EVANS
For two decades, Anthony Evans has voiced the gospel with a melodic, thought-provoking style, and has emerged as one of Christian music's premier worship leaders and singer/songwriters. Along the way, Anthony has released ten solo projects, (the last two climbing all the way to #1 on Billboard's Top Gospel Album charts), released his first book, Unexpected Places, done numerous music videos, acted in two movies, and performed as "Beast" in Disney's Hollywood Bowl production of Beauty and the Beast. In addition, he has collaborated on inspirational events with his father, beloved pastor and international speaker, Dr. Tony Evans; his sisters, Priscilla Shirer and Chrystal Evans Hurst; and his brother, author and speaker Jonathan Evans.
Please click the button below to register and purchase a ticket for this event.
Going Beyond Simulcast Registration
Going Beyond Simulcast Schedule
8:15 am Check-in Opens/Continental Breakfast served in Gym
8:40 am Lifeway Pre-Show in Youth Auditorium
9:00 am Event Begins with Worship
9:30 am Prayer Experience
9:50 am Session One
10:50 am Impact Opportunity
11:00 am Lunch – Menu to be announced
12:25 pm Worship
12:40 pm Prayer Experience
1:00 pm Session Two
1:40 pm Impact Opportunity
2:00 pm 30-minute Break – GA Bake Sale in Gym
2:30 pm Worship
3:00 pm Session Three
3:50 pm Closing Worship
4:00 pm Event Concludes

Meals and Snacks
Breakfast - A continental-style breakfast will be served during check-in. This is included in the price of the simulcast.
Lunch – Lunch will be served in the gym. Menu to be announced. This is included in the price of the simulcast.
Snack – The GA's of FBC, Brazoria will hold a bake sale during the 30-minute afternoon break. Please be sure to bring cash to donate to the GA's to help them raise money for Summer Camp.
If you have any dietary concerns or requests, please call Melissa Head at (979)308-6064
If you have any questions, please feel free to call the church office at (979)798-2340