Staff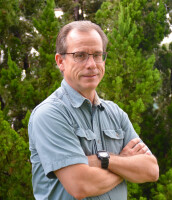 Greg Smith
Senior Pastor
E-Mail:

Greg Smith has served as Senior Pastor of FBC since 2008. He and his wife Donna have been married for over 40 years and have two grown children and five, count them: 5, grandchildren! Bro. Greg's gifts are preaching and teaching. He preaches the Word of God as the power of God for our lives. His greatest joys are telling people about his grandkids, and telling people about Jesus.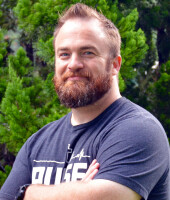 Joe Johnson
Student & Family Pastor
E-Mail:

Joe joined the team at FBC Brazoria in May 2017. He is excited to be involved with Pulse Student ministries and teaching students God's Word. He is passionate about teaching students what it means to love God and love others in every moment in every day. He desires that his students passionately pursue the life of Christ by looking to Him, living for Him, and loving like Him. Joe is married to his beautiful wife, Charisa, and they have five amazing children- one son, Jacob and four daughters, Sophia, Zoe, Emily and Paige. Joe loves spending time with his family and watching movies with his wife. He also loves video games and is very much a nerd. He enjoys playing guitar, singing, reading, watching movies, playing foosball, table tennis and collecting Pez.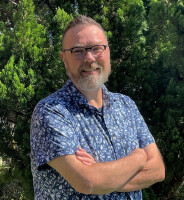 Kevin Martin
Worship Pastor
E-Mail:

Kevin Martin joined the staff at FBC Brazoria in July of 2021. Kevin is a native of Hurst, Texas and graduate of Hardin-Simmons University in Abilene, TX. He accepted Christ as a teenager and was called into worship ministry a few years later. Kevin has served in churches in Texas, Missouri, and Florida. He was a part of THE PROMISE IN GLEN ROSE, a musical production based on the life of Jesus, for many years, serving as a member of the cast and as musical director. He is passionate about leading others in worship, choir, discipleship, and presenting seasonal productions to share the Gospel within the community. Kevin loves being a part of FBC because we are a church that loves Jesus, serves our community, and are passionate about making Disciples who make Disciples. His favorite verse is Zephaniah 3:17: "The Lord your God is with you, He is mighty to save. He will take great delight in you, He will quiet you with His love, He will rejoice over you with singing." Kevin and his wife, Heather have two sons, William and Elijah.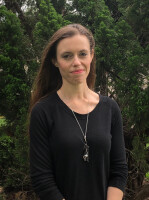 Charisa Johnson
Children's Ministry Coordinator
E-Mail:

Charisa joined our staff in January of 2020. She loves ministering to children and families. She desires for every child to know how much God loves them and how He can change their lives forever! She strives to teach children to love God and love others. Charisa loves her family so much! She is married to her amazing husband, Joe and they have 5 fabulous kiddos: Jacob, Sophia, Zoe, Emily and Paige. They all keep her on her toes and she wouldn't have it any other way! When Charisa has free time she enjoys painting, singing, photography and drinking coffee (lots and lots of coffee!).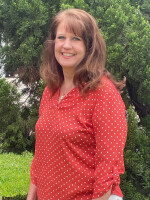 Denise Eubanks
Ministry Assistant - Administration
E-Mail:

Denise Eubanks joined the staff at FBC Brazoria in January of 2023. She and her husband, David, have been married for 30 years and have been members of the church since 1997. They have 3 grown children and 3 wonderful grandchildren. Denise loves serving the Lord, her family, and others. Her favorite verse is Romans 8:28 "And we know that in all things God works for the good of those who love Him, who have been called according to His purpose."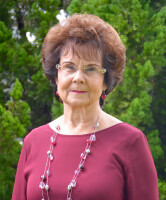 Sissy Moffett
Ministry Assistant-Receptionist
E-Mail:

Sissy has been a member of FBCB since 1954. She and her husband, Steve, are life-time Brazoria residents. Sissy has two grown children and three granddaughters: Susan Parker and her daughter, Taylar live in Brazoria and Jerry W., his wife, Hope, and their two daughters, Jaidyn & Jordyn live in Bar X in Angleton. Sissy has worked at FBCB since 1992.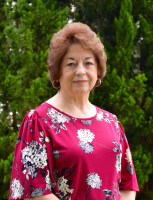 Karen Black
Ministry Assistant-Financial
E-Mail:

Karen (Karen Sue Mariam) was "born" and raised at First Baptist Church and has attended all but 12 years of her life. She and her husband, John, live in Lake Jackson. Karen has three children: Kassandra, Archie, and Angela, and three grandchildren: Jacob, Zachary and Macy. Karen is the organist/pianist (for over 50 years), a member of the Sanctuary Choir, and has been the part-time Financial Ministry Assistant since January of 2008. Karen loves serving her Lord and Savior, Jesus Christ in these capcities.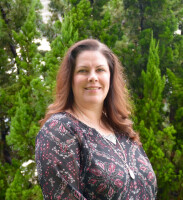 Jenny Maus
Ministry Assistant-Music/Webmaster
E-Mail:

Jenny and her husband, Randy live in Brazoria with their two children, Daniel and Logan. Jenny and Randy have been members of First Baptist Church since 2002 and Jenny has been the Music Assistant since February of 2006. She is also the keyboard player and a vocalist in the Praise Band, a member of the Sanctuary Choir, and is the Director of the children's choir ministry, Praise Time! Jenny is also the Webmaster and the Facebook Administrator for the church. Jenny was born and raised in the Baptist church as the daughter of a worship pastor. She loves the Lord with all her heart and has a passion for reaching people through music and worship.